Learn the True Essence of Patents and their Use in Modern Businesses
This Unique Course is Designed by Dr. Rahul Kapoor, who has over 10 years' experience in research, teaching and consulting global multi-industry conglomerates on Patent Analytics.
The Topics covered provide a 360 degree view on Global Patent Systems, Patent Strategy, Key Concepts, Analytics, Searching, Landscaping, India Patent Filing and much more!
Testimonials have Poured in from over 1300 Course Participants. Please read some of them below!
On Popular Demand, we have kept the Course Fee at a Discounted Price of Rs. 199/- Until 31st May, 2021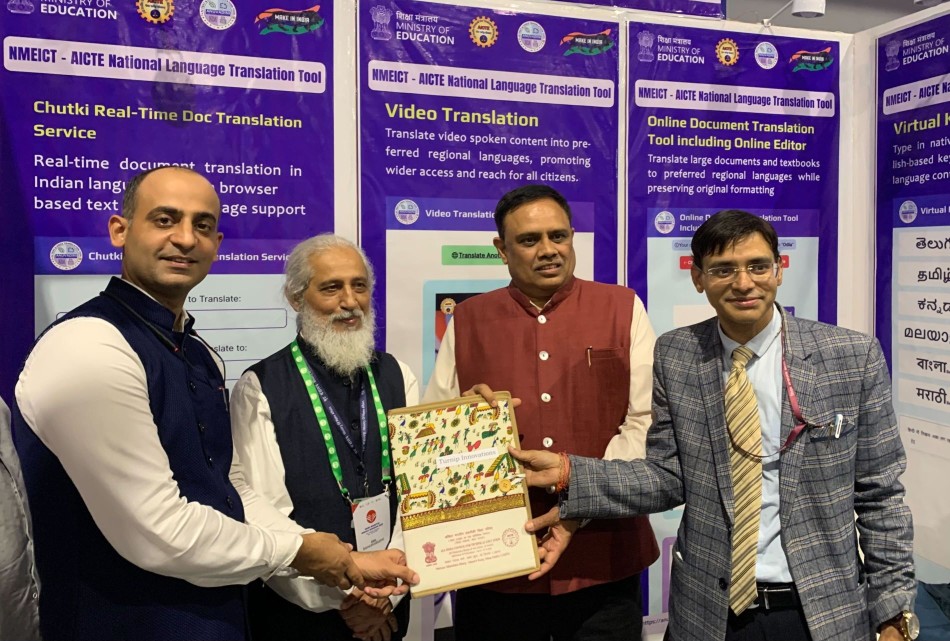 Frequently Asked Questions
Q. What is the course date?
A. Course starts as soon as you register. The content is delivered over 15 days via email.

Q. Do I get a certificate?
A. Yes, from Turnip Innovations.

Q. How many hours a day do I need?
A. Only 15 minutes a day of reading and sometimes external reading and video content.

Q. Further Questions?
A. Please contact [email protected]

Testimonials


Dr. H. Purushotham, DPIIT-IPR Chair Professor, Andhra University and Former Chairman, NRDC

I have read all the lessons prepared meticulously by Dr Rahul and I learned many new concepts and updated my knowledge by attending the course. Though I was in the profession for quite some time, by attending this course up skilled my competencies understanding various dimensions of IP. Thanks to Dr Rahul Kapoor for his commitment and passion to promote and develop IP in our country and I wish him grand success in his endeavours.



Dr. Amit Kumar Tiwari, Professor and Head - Intellectual Property at Symbiosis International Deemed University

To know more about patents and information thereof is must for all stakeholders involved in the innovation process. This course serve the purpose to bring more awareness and innovation in country for a better society. I must congratulate to all the organizers of this course.

A very interesting and valuable experience. I learnt a lot and it gave me a good grounding in the basics. In my experience, it is much more engaging and well organized than other online courses I have taken.
- Pooja Chauhan, Assistant Professor, Abhilashi College of Pharmacy Nerchowk Mandi Himachal Pradesh.

I honestly recommend to beginners and innovators to first attend this patent information course to update your basics and knowledge about Patenting. Right Approach towards applying patent avoids mistakes and failures. This course by Mr. Rahul Kapoor is simply excellent and informative to you all...
- Dr. RAVISHANKAR C.V., Professor and Head, SAMBHRAM INSTITUTE OF TECHNOLOGY.

A very useful course most sought today to make our presence globally fit. Highly recommended by MHRD in HEI's..informative course both for technical and non-technical student community.
- Dr. B. Gopi, Dean-PAC, Muthayammal Engineering College

I recommend this course to all the early researchers and as well as for the doctoral or master's student. The course discuss how idea and innovation differs..... how to convert innovation into patent...... patent process.....patent search.....classification and so on.......... In overall, it is a great course.
- Bharath Velaga, Research Scholar, IIT Guwahati

A great informative all in one course, to boost the young generations to come up with innovations, and patent them.
- DIPESU BANERJEE, Former Co-founder, Wiggle Automation Private Limited.

The course is truly amazing and can be fit any curriculum of the Institutions and mandatory skills requirements.
- Shubham Joshi, Assistant Professor, SVKM'S NMIMS University Mumbai

Course contents are really useful.
- Dr. Nagendra Pratap Singh, Assistant Professor, National Institute of Technology Hamirpur

VERY INFORMATIVE AND EASY TO LEARN STEPS INVOLVED
- Dr. M. MADHESWARAN, Professor ECE, MUTHAYAMMAL ENGINEERING COLLEGE (AUTONOMOUS)

I recommend all researchers must go for this course
- Dr Joseph Vidyasagar Tandhara, Professor, MIT WORLD PEACE UNIVSITY SCHOOL OF MANAGEMENT

The clear and simple materials is most helpful.
- Lavanya Babu, Assistant Professor, Crescent school of Pharmacy

Best quality content for an optimal price. I request everyone to follow Rahul's upcoming webinars and subscription content which is simple and effective.
- Nishant Bhanu Palla, Student, Nishant Bhanu Palla

Many of the Commercial people don't know the importance of Patent. That's the reason for malpractice happens. Once everyone understand the information about the patent and awareness on it, it will definitely useful for the commercial people.
- Mr. SA. MUTHU BAARATHI, Librarian, NIFT-TEA COLLEGE OF KNITWEAR FASHION, TIRUPPUR

The course spanned over 15 days does not burden your daily tasks and is very helpful. The course gives you A-Z insight regarding IPR. I recommend this course to budding researchers and faculties.
- Dr. Swamini Chopra, Assistant Professor - Research, Maharashtra Institute of Technology, Aurangabad

Nothing less than a Five Stars..! Turnip Innovations are very professional in delivering lectures and trainings. Thanks to Rahul Sir and co. for providing a platform for us to learn the art of patent filing.
- KRISHNA KUMAR G., Assistant Professor, NMIMS-School of Agricultural Sciences and Technology

I highly recommend this course, especially for senior working professionals and academicians who do not get much time to go through a course of fixed schedule.
- Prof (Dr.) SIBAMAY DASGUPTA, Director, School of Engineering Science, MAKAUT WB India

Like "Short But Sweet" the idea of Rahul Kapoor sir to organize Patent information course in short time span of 15 days on such a platform is a new initiative thing. Sir have covered many aspects in patent write from introduction, types, application procedure and so on, and all this they have given in very small amount it will be beneficial for the new research scholars. all the best to Rahul sir and team for future such type of courses.
- Mr. Nitin Maruti Naik, Research Scholar, Shivaji University Kolhapur

Excellent course: a must for everyone.
- Dr. NILANJAN MALLIK, Associate Professor, Indian Institute of Technology (BHU)

Truly amazing content at affordable prices and excellent service. Thank you entire team.
- DR CHIRAG VYAS, Faculty, ILA Academy, BHAVNAGAR GUJARAT

Very good course for beginners to understand basic concepts of IPR. Very nicely managed and delivered.
- Raveendra Rao K, Associate Professor, Manipal Institute of Management

It is simple and clear.
- Libiya A. , M.Tech Student, ICT, Mumbai

It's an amazing course in simple words and great examples.
- Rohitha Putsala, Venture Coach, Gitam University

A really informative course.
- Mrs.N.KARTHIHA, Assistant Professor, Sri Ramakrishna College of Arts & Science for Women

The course is good for understanding the concept.
- Manjusha Sudhakar Dake, Associate Professor, Dr. D.Y. Patil Biotechnology & Bioinformatics Institute

The Patent information course really helps you to get practical knowledge about the patent application and procedures. I will really recommend this course to all law students.
- Revati Deshpande, Student, DES Navalmal Firodia Law College

It is excellent and helpful course.
- Piyush Shukla, Ph.D Scholar, Guru Ghasidas University

Online learning regarding IPR through Turnip is a good experience. Recommend professionals who are busy with their personal and professional activities to subscribe to Turnip for the courses they offer which are at optimal price with good study material.
- Dr Vidya Sagar J, Head - QA & RA, Aegis Life Sciences, Ahmedabad

Short Content and easy to understand.
- Dr.K.Boopathy, Professor, Aarupadai Veedu institute of Technology

This Patent information Course was very useful and it was helpful to know from the scratch.
- Dr.K.GAAYATHRY, Assistant Professor / EEE, Sri Krishna College of Technology, Coimbatore, Tamilnadu

Any one keen on making a career in consultancy w. r. t. Patents /Trademarks should consider to enroll for this crisp certification module. It would positively change the perspective one understands the subject.
- Dr. Abhay Kinikar, Senior Faculty in Financial Management, Neville Wadia Institute of Management Studies and Research

Just do it.
- Debasis Swain, Lecturer in Physics, Balimela College of Science and Technology

A small push for greater knowledge of IPR. Highly recommended.
- Oshnik Chandrakant Maurya, Research Scholar, Institute of Chemical Technology, Mumbai

It is a great course as it initiates lots of reading and it increases focus.
- Abhishek Rajendra Mishra, Student, Ramnarain Ruia Autonomous College

Very informative course.
- Dr Shashikant B Bagade, Associate Professor, SVKM's NMIMS School of Pharmacy & Technology Management Shirpur

Thank you Turnip Innovation for designing such a brief, informative, and nicely planned course content on daily basis for gaining insight of patent, the need of the time. Learnt a lot thank you.
- Madhvi Prajapati, Assistant Professor, Mehsana Urban Institute of Science, Ganapat University
Course Certificate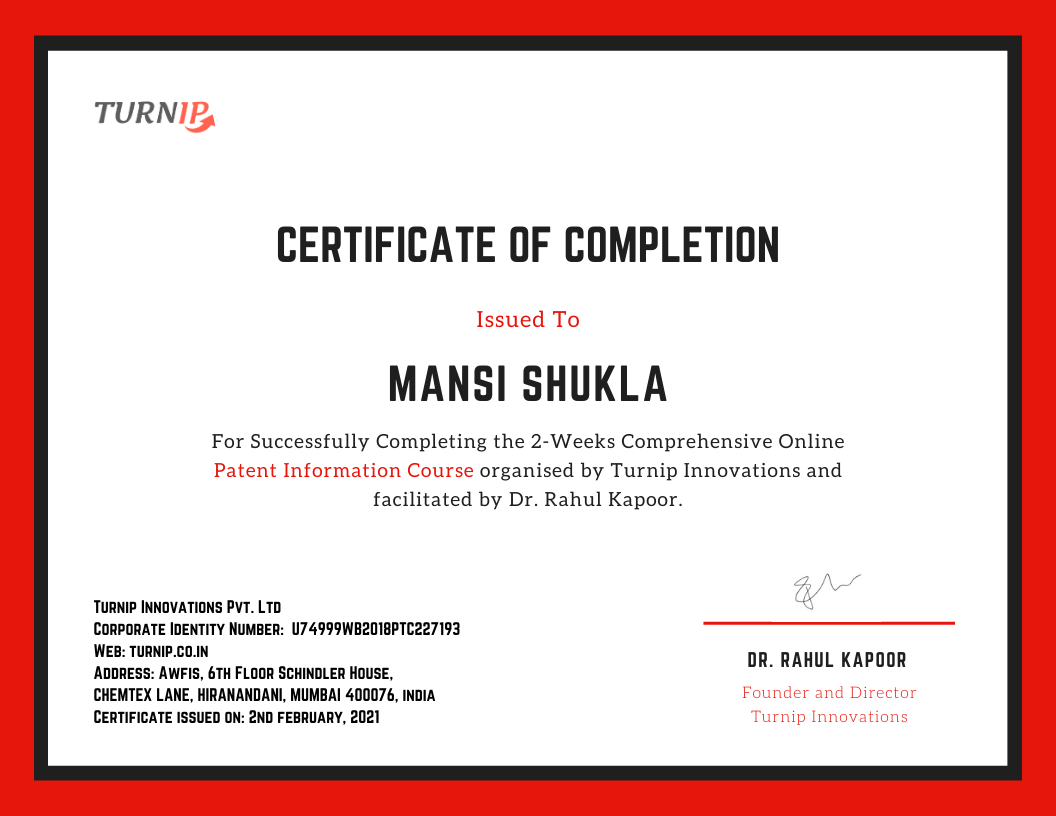 Terms & Conditions
The course content will be delivered via daily email.
The payments are completely non-refundable.
E-certificates will be provided only to registered emails after completion of course.
Organiser can exercise discretion in issuing certificates.